Most people would never think to simply look up at the sky to forecast fashion trends. But I'm not most people.
I'm a left-handed, redheaded triplet. Kevin was my favorite Jonas Brother (because I felt bad for him lol). I was the purple sister (IYKYK). I liked Daisy Duck over Minnie Mouse because of an unspoken agreement that my twin sister had dibs on Minnie. In even the most juvenile of ways, I've always picked the other. Astrology, in the eyes of modern society — like my childhood affinity for purple over a more standard girly pink — has been polemically framed as other: science vs. pseudoscience, rationality vs. superstition. This might be why I've developed such a fondness for investigating its relationship to fashion as I navigate adulthood.
Astrology is used for more than just telling you about you. Electional astrology, for example, is the application of astrology to find the best dates and times to begin a new project, get married, publish a book, apply for a job and so forth. In terms of fashion, astrology can be used as a tool or cheat code to decipher which trends could be around the corner.
So, what does 2023 have in store for us, sartorially? Let's find out.
Which planets dictate what?
Before we dig into 2023, it's helpful to look back at 2022's birth chart — or its "solar return chart" — to determine how last year's trends translated from the sky down to earth.
For fast fashion and micro-trends, we look at the moon, because it changes signs every two days or so.
For money-making trends and trends targeted towards women, we look at Venus, since Venus is a feminine planet that rules over money, beauty and fashion. For men, we look at Mars, as Mars is a masculine planet.
And for long-lasting, steady trends, we look at Jupiter (which spends about one year in each sign) and Saturn (which spends about two and a half years in each sign).
What happened last year?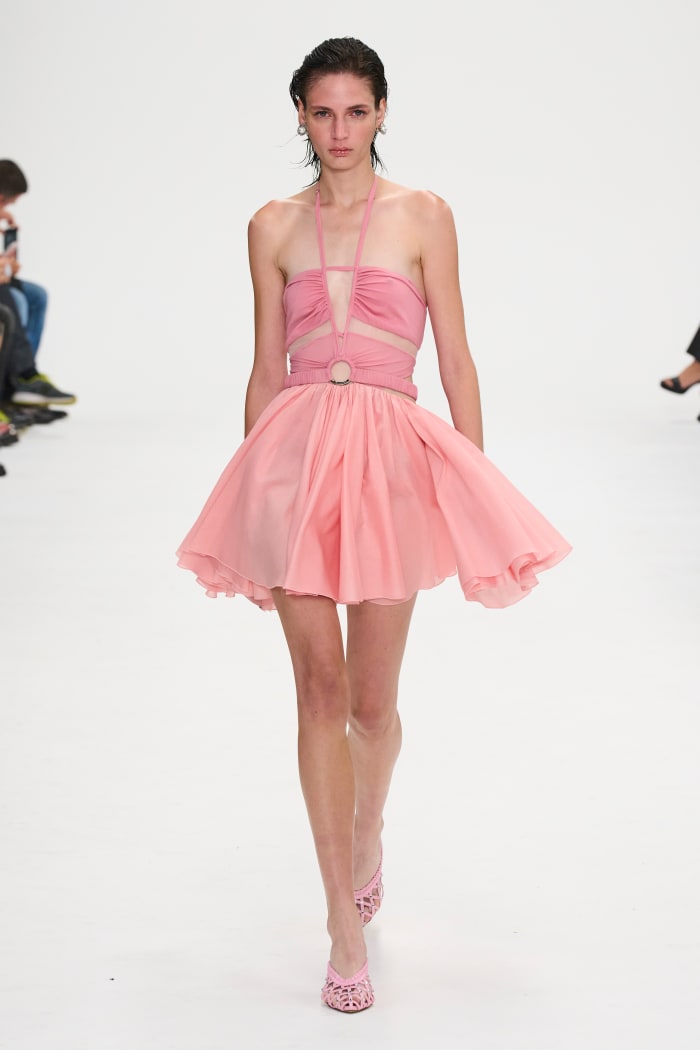 At the start of 2022, Saturn was in Aquarius. 
Aquarius rules over our skin and freedom — in this case, with our bodies, in a sartorial sense. Nensi Dojaka persevered under Saturn in Aquarius: The designer not only won the 2021 LVMH Prize for a mentorship in 2022, but her name has since become synonymous with cutouts and body-bearing garments.
Aquarius also rules over our legs (specifically our calves), and brands like Versace and Miu Miu were wise to revive the micro-mini skirt.
We also began the year with Jupiter in Pisces, which rules over all things ~weird~, including aliens, the unknown and Loewe-esque surrealism. Ever had a dream where you're having trouble climbing up the stairs, all your teeth are falling off or you're suddenly blind? Twisted storytelling and visuals (à la Alexander McQueen) is Piscesan energy. 
Jupiter is the planet of expansion and abundance; the sign it's in can determine the kinds of trends we can expect for 12 to 13 months. Jonathan Anderson gave us a taste of Dali Surrealism for Loewe's Fall 2022 collection in the forms of balloon body parts and lips for chests; the brand's Spring 2023 line, which debuted in late September, celebrated surrealist Rei Kawakubo-style lumps and bumps. (Kawakubo's Spring 1997 "Lumps and Bumps" collection was released right before Jupiter entered Pisces in 1998, when Jupiter was still in futuristic Aquarius.) 
What can we predict about 2023?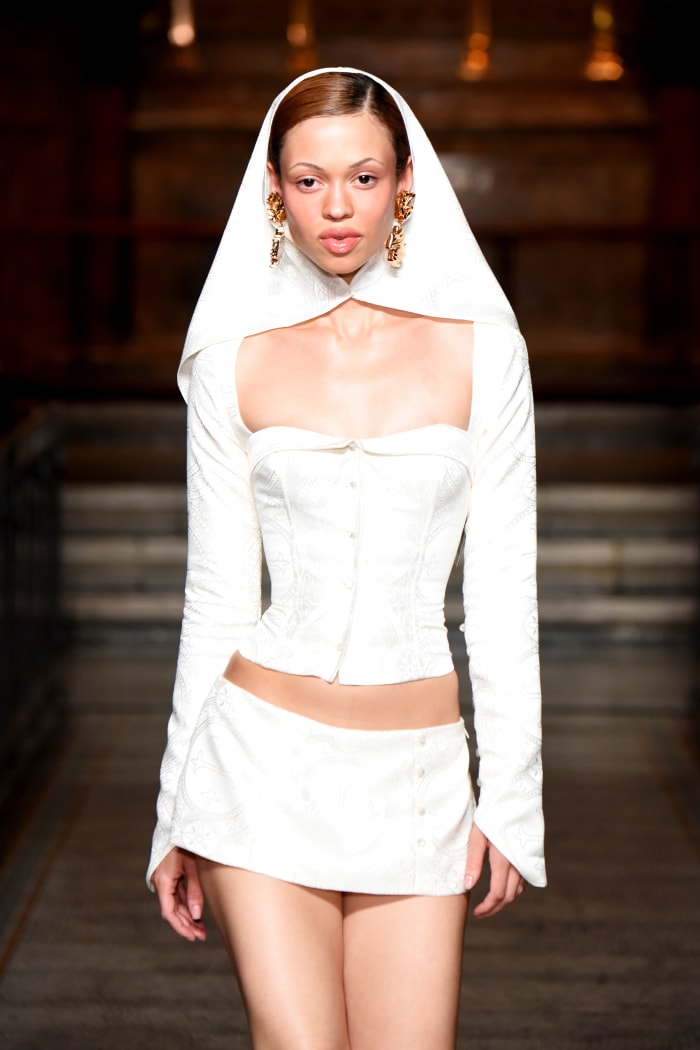 The trend: sportswear
In 2023, Aries will be the center of attention for two reasons: Jupiter (planet of expansion) is currently in Aries (which rules over sports and physical activity), and the North Node will shift from Taurus to Aries in the second half of the year, in May. Both of these planets are signs of exponential increase, so expect a ton of sportswear before Jupiter joins Uranus mid-May and lures us towards slower fashion and sustainability.
The trend: sustainability and slow(er) fashion
On Jan. 1, 2023, we had five planets and the North Node in super-slow Earth signs: The sun, Mercury, Venus and Pluto were in Capricorn, while the moon and North Node were in Taurus. (Quick aside: Taurus rules over necks, and pointed collars were big at Prada and Fendi Fall 2023.) When three or more planets are in the same sign, we call this a stellium: A stellium's energy is more potent and powerful — and of course, Earth signs rule over sustainability and slowness. With the Paris Agreement and political emphasis towards clean energy, the fashion industry will certainly follow more than ever.
The trend: religious aesthetics (and more surrealism)
In 2023, we have Saturn entering Pisces for the next three years. Astrologers believe that this transit will collectively enforce faith-based boundaries and cause us to prioritize our emotions as they relate to these boundaries. 
Pisces rules over dreams, the unknown and, ultimately, religion. It also rules over the Twelfth House of isolation, loneliness and darkness, as well as our intuition, psychic abilities and sleeping.
In terms of fashion, expect more religion-themed runway collections (with possible backlash, because Saturn restricts) in the next three years — think Jean Paul Gaultier Spring 1990, Alexander McQueen Fall 1996, Versace Fall 1997 Couture, Christian Dior Spring 2006.
And as I mentioned earlier, Pisces' rule over surrealism suggests that brands like Loewe and Schiaparelli will continue making giant waves in fashion.
The trend: more vintage revival and pink mania
The year started with a stellium in Capricorn, ruler of the past. The same way Diesel had a revival this past year, I foresee brands like Michael Kors, True Religion and Kate Spade — brands we appreciated in the 2000s (and maybe not so much anymore) — to make comebacks similar to Diesel's.
Valentino Pink, Barbiecore, Balletcore — it's all here to stay in 2023, with Venus in Capricorn making a hard aspect to Cancer and Libra, rulers of femininity and pink.
Bonus opportunity: Shoes
Pisces rules over our feet, and ultimately shoes. The top shoe brands in the world were all conceived when Saturn was in Pisces: Vans (1966), Nike (1966), Converse (1908), Giuseppe Zanotti (1994), Jimmy Choo (1996). If this isn't a sign to either start a shoe brand in the next three years or expect one to blow up, I don't know what is.
Designers to watch in 2023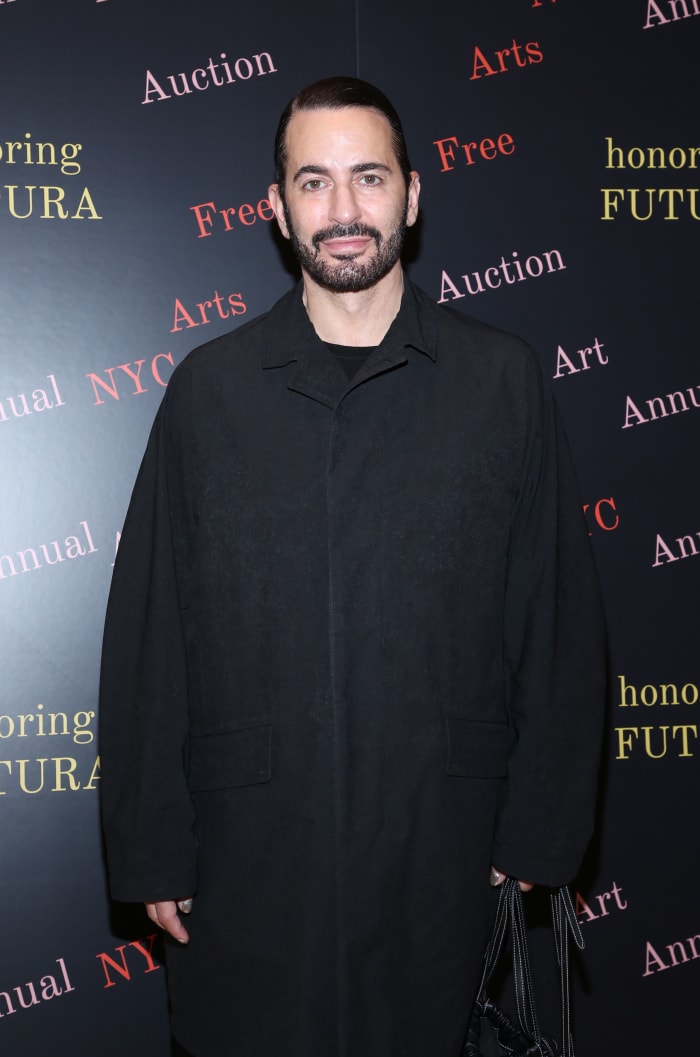 Already, 2023 is favorable for nepo-baby-turned-designer Stella McCartney, who does both sportswear and sustainability well. Plant-based and leather alternatives have become commonplace for brands. As the vegan leather industry is predicted to be worth over $66 billion by 2030, and with Saturn entering Pisces in March, we can also expect more sustainable (but expensive) Iris Van Herpen-style 3D-printing.
Raf Simons has his natal North Node placement in Aries and Miuccia Prada has hers in Taurus. From May 2023 onwards, when the North Node moves into Aries and Simons' experiences his nodal return (a concentrated time of fated events, high achievements, massive increase etc.), we can expect significant changes at Prada that will change the house as we know it. 
In March, Saturn will enter Miuccia Prada's Twelfth House of hibernation and reflection. Saturn transiting through the Twelfth House forces us to have breakthroughs and move towards an inner rebirth that manifests outwardly once it enters the First House after the three-year transit. As an Aries rising with the North Node transiting through her First House, Prada will be called to put herself first.
Although Simons' birth time is unknown, the North Node in Aries is going to conjoin his natal Saturn in Aries, and transiting Saturn in Pisces is going to make a strong conjunction with his Chiron (asteroid of trauma) in Pisces. Karmic, destined events are definitely on the roll call for the pair this year.
A huge year is in the cards for Marc Jacobs, who has his Sun, Mercury and Jupiter in Aries. Jupiter currently in Aries means that the designer's going through a Jupiter Return in the first half of 2023, an abundant transit that happens every 12 years. The North Node (a lunar point of destiny) in Aries in the second half of the year will be on his Sun and Jupiter — planets of fame and expansion.
If you thought the Balenciaga/Demna drama was over… Balenciaga's creative director will most definitely be in the spotlight, with the North Node in Aries transiting through his natal Venus, Sun and Mars in the same sign. The South Node (lunar point of massive decrease and loss) in Libra will make conjunctions to his natal Libraean Pluto (planet of destruction and rebirth) and Saturn (planet of Karma, restrictions, boundaries and emotional unavailability). Libra rules over justice and balance, and as the South Node makes a conjunction to Saturn (the planet of Karma), I expect Demna to get attention once again and be out of "hiding" — but not for any positive reason or a chance at redemption. 
Never miss the latest fashion industry news. Sign up for the Fashionista daily newsletter.