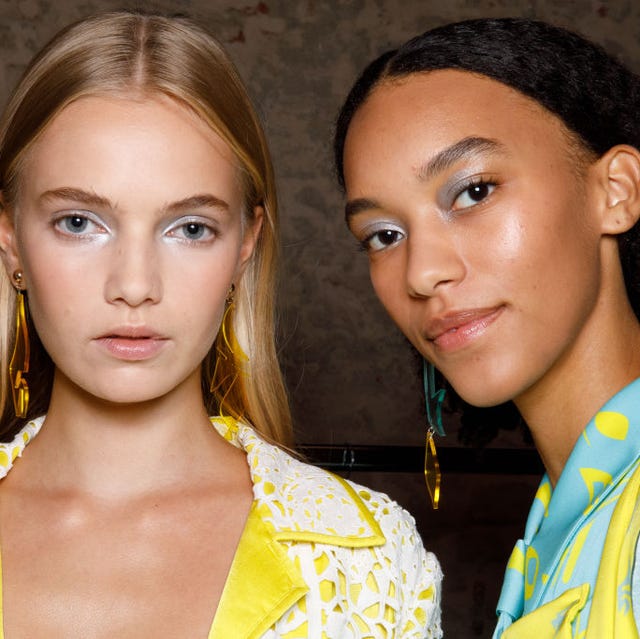 Rosdiana CiaravoloGetty Images
What exactly does keratin do? According to celebrity hairstylist Clayton Hawkins, who works with Elizabeth Olsen, Alison Brie, and Dakota Johnson, "keratin helps to rebuild the protein structure of your damaged hair. Over time, it should leave your hair silky and smooth." Hawkins also notes that looking for keratin shampoo might be a great introduction to the multi-tasking ingredient. "If you've got frizzy locks and are afraid to take the leap and get a full-on keratin treatment at the salon, then a keratin shampoo is a great way to start," he says. Although, he does note that while a rinse-out product like a keratin-laced shampoo won't fully straighten your hair in the same way that a chemical treatment would, you'll definitely notice smoother hair over time. Here, 14 of the best keratin shampoos for stronger, healthier hair.
1 Keraphix Damage Healing Shampoo
Hair that's been damaged by heat or chemicals, can reap the benefits of this shampoo which works overtime to repair and strengthen the hair. The end result is silky, rehydrated hair that's stronger and softer. 
2 The Kure Bond Repair Shampoo
One of the telltale signs of weak, damaged hair is breakage. This bond repairing shampoo works within the hair shaft to strengthen and repair from the inside out, so hair won't break or split at the ends.  
3 Advanced Keratindose Shampoo
Instead of stripping the hair of its natural moisture, this shampoo actually helps condition it, imparting keratin and protein into each strand to help them become stronger and smoother. 
4 Shampoo for Magnificent Volume
Weak, damaged hair is often limp and lifeless. Thanks to strand-thickening polymers in the formula, this volumizing shampoo not only makes the hair stronger but also increases its bounce factor. 
5 Keratin Smooth 7 Day Smooth System
Hawkin's go-to keratin treatment is the TRESemmé Keratin Smooth 7-day system. While not technically a shampoo, the product does reduce frizz and act as a barrier from heat styling tools like the other keratin shampoos on this list. Prepare for salon-sleek hair.
6 Discipline Bain Fluidealiste
The "morpo-keratine" technology in this product restores the flexibility of the hair to help create voluminous body with structure.
7 Scalp Stimulating Shampoo
Keranique's keratin amino complex reaches the cortex of the hair while strengthening the hair's surface. After continued use, your hair should appear and feel fuller, thicker, and stronger.
8 Keratin Care Smoothing Shampoo
This Keratin Complex shampoo provides a gentle cleanse to color-treated hair. Plus, the product is formulated to soothe and protect against damage if you've been experimenting with dye. Double up and use the Keratin Complex conditioner from the same line to further hydrate and restore your hair's protein.
9 RevivaHair Growth Stimulating & Anti Hair Loss Shampoo
One of Amazon's top-reviewed shampoos, Purebiology's RevivaHair Growth Stimulating & Anti Hair Loss formula, is packed with active ingredients to treat thinning or damaged hair. The natural extracts in the cleanser include biotin and keratin which work in tandem to stimulate hair growth.
10 Anti Frizz Daily Shampoo & Conditioner
Previously, if you've had a Brazilian keratin treatment, there wasn't a need to use a keratin-based shampoo or conditioner, but this product works with the treatment to maintain the health of your hair and to leave it feeling full and healthy longer.
11 Argan Oil & Aloe Shampoo
Not only do you get a keratin infusion with this shampoo, but you'll also reap the benefits of the fatty acid-filled and moisturizing organic Moroccan oil. The combination of the two ingredients doubles up the product's ability to provide nutrients and strengthen the hair follicles.
12 Brazilian Keratin Smooth Shampoo
If keratin alone isn't enough to get your hair back on the road to good health, the extra oomph of super-moisturizing coconut oils will take you the distance. The other notable ingredient is avocado oils—you hear that, millennials?
13 Miracle Shampoo Plus Keratin​
This keratin-infused product prevents breakage and works to repair all the signs of heat damage. If you're constantly using a flat iron or blow-dryer, grab this to restore lost moisture and nutrients while in the shower.
14 Recovery Shampoo
The keratin used in Virtue's shampoo is identical to keratin produced by the human body. This cleanser also works to rid strands of excess oil, dirt, and build-up in a gentle way that won't damage or strip vibrancy from color-treated hair.
15 Keratin Protein Smoothing Shampoo
This miracle worker in a bottle cleanses hair and restores shine while smoothing. Plus, it smells incredible.
16 Damage Eraser Shampoo
A fruit smoothie for your hair, Garnier's cleanser uses citrus proteins that work with keratin to hydrate the scalp and return moisture back into dry hair. 
Chloe Hall Beauty Director Chloe Hall oversees all beauty coverage at ELLE.com.
Tatjana Freund Beauty Commerce Writer Tatjana Freund is a Beauty Commerce Writer, covering makeup, skincare, and haircare products and trends.
This content is created and maintained by a third party, and imported onto this page to help users provide their email addresses. You may be able to find more information about this and similar content at piano.io