Architect Toshiko Mori once said that Tokyo "demonstrates that 'city' is a verb and not a noun." Indeed, the Japanese capital's clish-clash mix of traditionalism, modernity, restraint, and creativity make it an intoxicating place to visit any time of year. Tokyo also holds a few honors: it is the city with the most Michelin-starred restaurants in the world, the busiest pedestrian intersection (the Shibuya crossing as seen in Lost in Translation), and the most crowded, often chaotic train station (Shinjuku Station).
The city offers a number of experiences, both big and small, that you won't be able to find anyplace else. Have you ever walked down streets completely free of any garbage cans or trash? Or ridden go-karts in Mario Kart costumes? Care to visit a 100-plus-year-old shrine with its very own subway stop? You can do all those things and more.
I've visited Tokyo many times, and each time, I leave thinking about 20 more things I wish I had time to do. This guide is a mix of recommendations for beginners and beginners-plus. You'll notice that I haven't put any classic landmarks on this list—that's because they're obvious. Besides, the Imperial Palace is so walled off that you can't see much, and the Tokyo Tower is sort of like the Eiffel Tower: best experienced from afar, and preferably lit up at night. (If you like looking at nighttime cityscapes though, I do recommend a visit to Shibuya Sky, where you can also peep Shibuya Crossing). For your first day—no matter what time you land in Tokyo, you'll be groggy—settle into your hotel, take a shower, go out there and grab a coffee from 7-Eleven (they have a little robot machine which makes excellent coffee) and a crustless egg salad sandwich (it will also be excellent, just trust me), and get out there.

Takeshita Street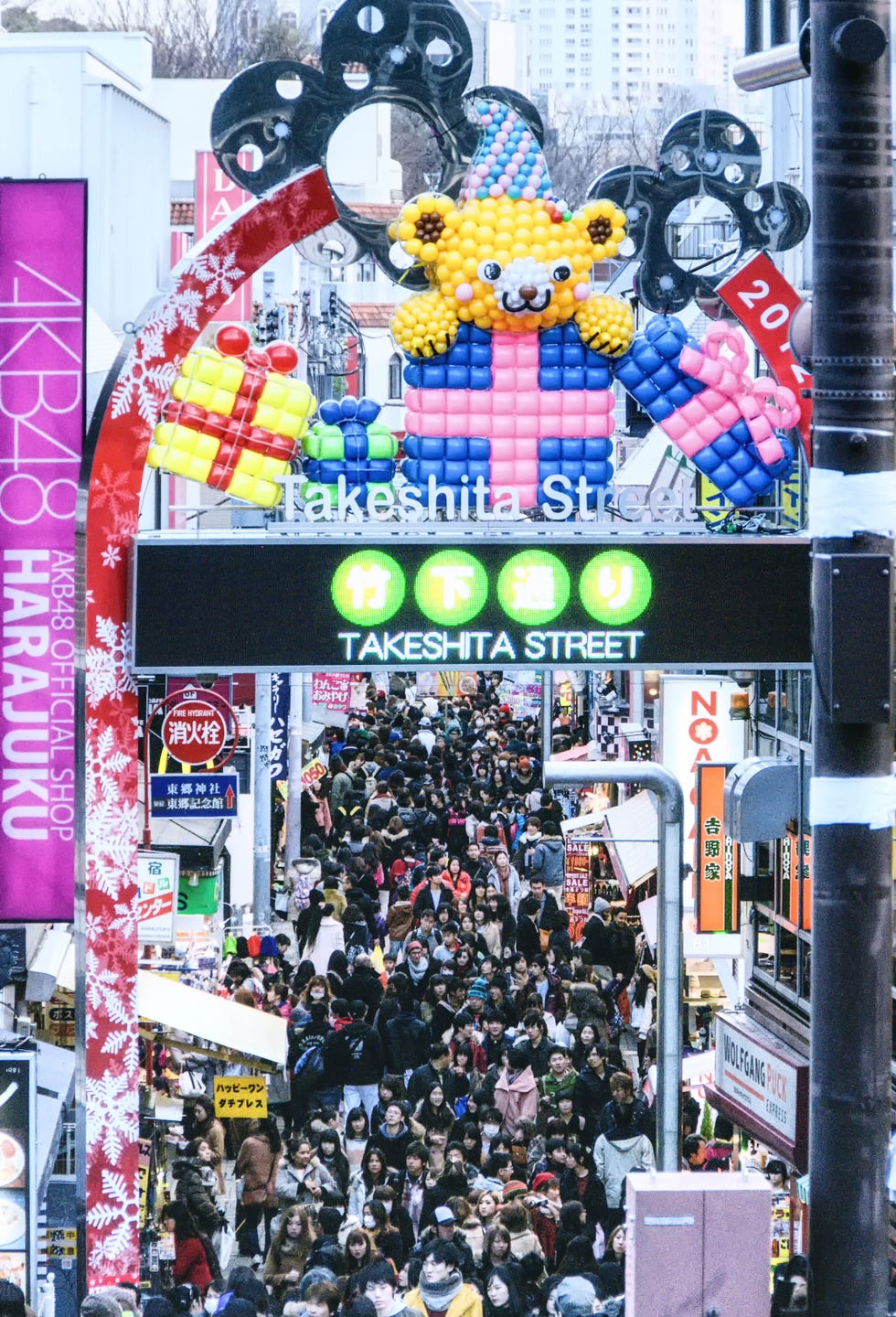 atosan
The Japanese have a word for cute (kawaii), but it is also a lifestyle. Takeshita Street is one long, walkable alley that celebrates all things kawaii. There are tiny boutiques selling all things adorable, whether it be tutu skirts, furry headbands, phone cases which look like melting ice cream, Croc dupes shaped like Instagram-friendly fruits, and more. If pastel had a street, it would be this. You'll also find a ton of Japanese photo booths which anime-ize your face and make for a very fun souvenir. Plus, eateries selling sugary and kawaii foods, like a rainbow cotton candy bigger than your head at Totti Candy Factory and over 100 kinds of crepes at Santa Monica.
teamLab Planets TOKYO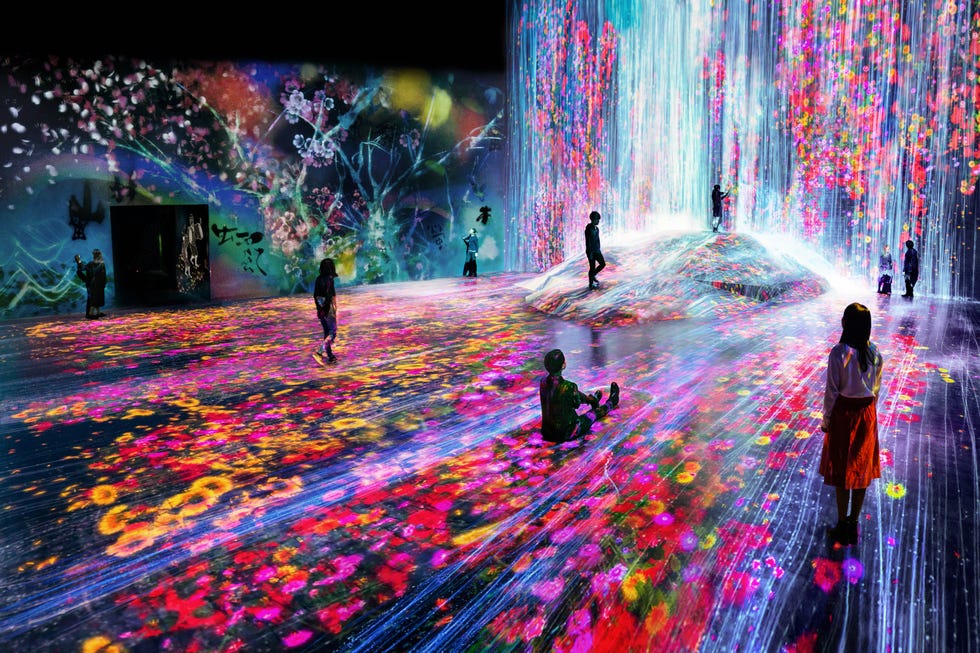 Courtesy of brand.
Justin and Hailey Bieber visited teamLab Planets when they came to Japan, and you can too. The immersive art experience makes you feel like you're touching, feeling, smelling, and seeing different worlds. You can explore seven different installations (all barefoot) and feel like you're walking on water, or a fairy-flitting around an orchid garden. Yes, it makes for good social media moments, but you'll also be so amazed by what you're seeing that you'll want to stay in the moment. I recommend you buy tickets ahead of time.
The Shiseido Global Flagship Store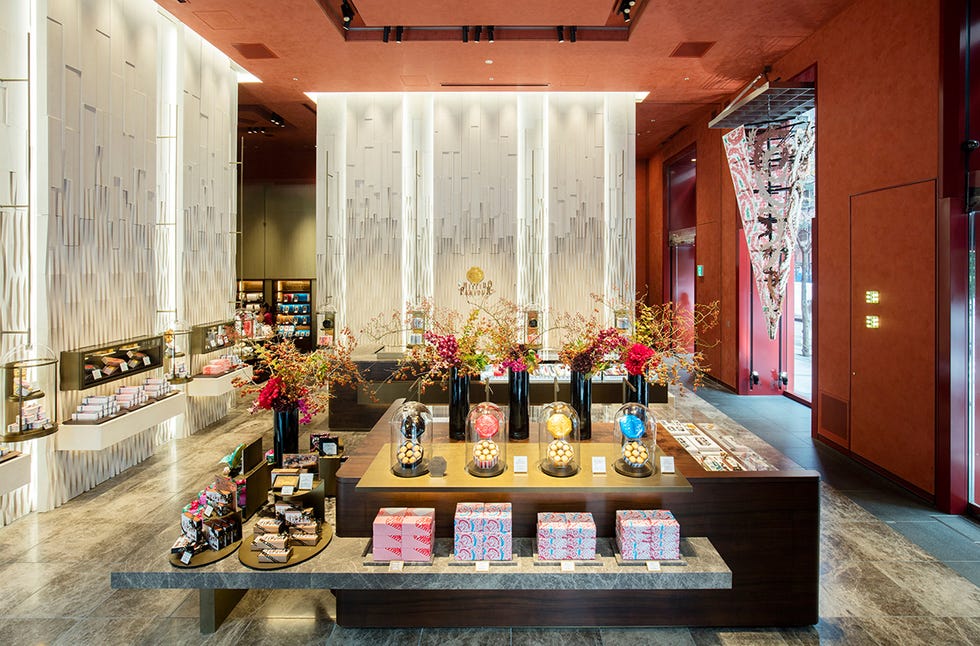 Courtesy of brand.
Makeup artists love visiting Japan to experience what's coming next in beauty. As the world's oldest makeup company, Shiseido celebrated its 150th anniversary in 2022 (if you love looking at vintage beauty ads and history, its corporate museum is just a short bullet train ride away in Kakegawa), but remains on the cutting edge of innovation. At the brand's flagship store, you can get color-matched for its award-winning foundation using AI, experience a scented meditation in a pod, and also get custom engraved beauty products, which make for great gifts. Not too far away from the flagship store is its original Ginza store, where it carries a full range of Shiseido products, including brands you might not even know are part of the family, like Clé de Peau Beauté, and Japan-only brands. At the Shiseido Parlor just upstairs, you can enjoy a strawberry parfait, which has the perfect ratio of whipped cream to fruit, and features uniformly flawless strawberries. (You can also order chocolate, if that's more your thing).

Tsukiji Fish Market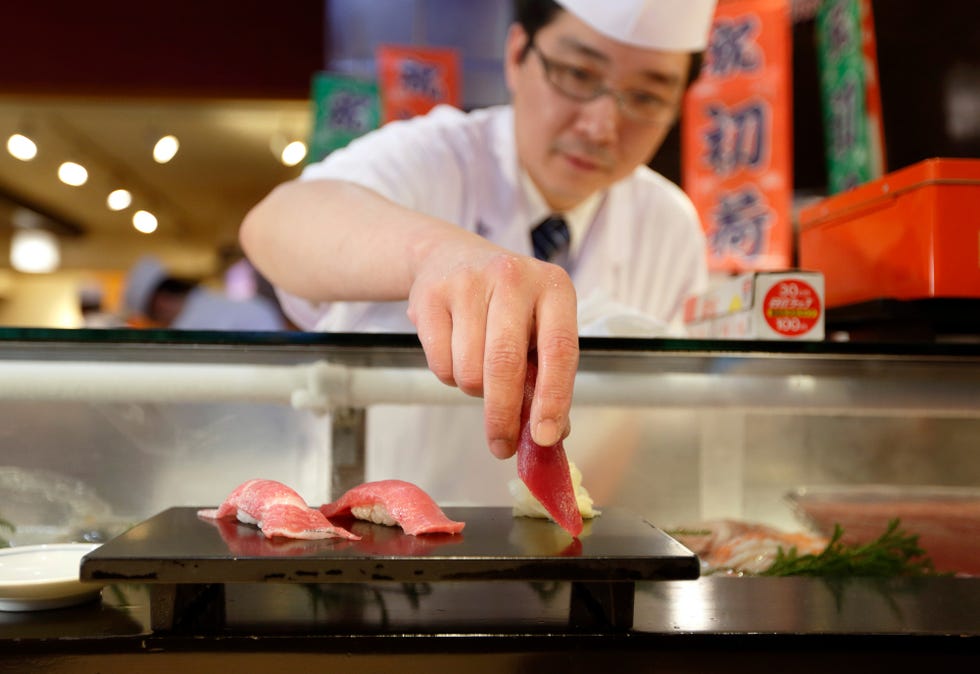 Tomohiro Ohsumi
You will most likely be jet-lagged, so you should head out at 5 A.M. to the fish market. If you're hoping to watch a large tuna being auctioned off, that doesn't happen anymore. However, you can visit the outer market for shopping and to eat fresh seafood (even for breakfast, if the mood strikes). You can get Japanese knives engraved, nosh on freshly grilled seafood skewers, and also buy all sorts of finely made kitchen accessories, seasonings, and flatware.
L'Osier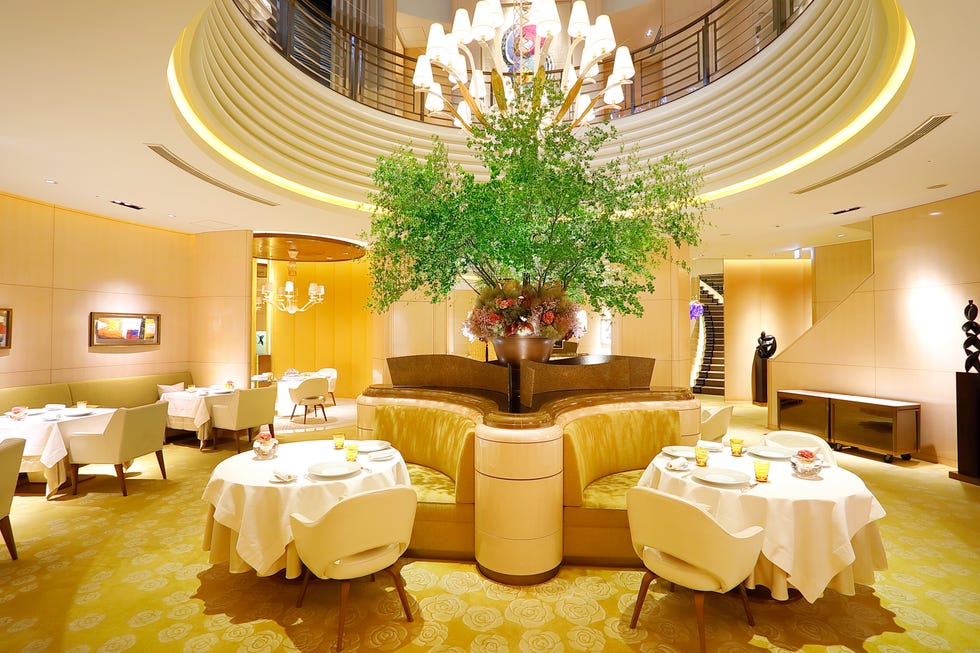 Courtesy of brand.
Tokyo does Japanese food well (obviously), but the city also offers world-class dining. Located in the Ginza district, L'Oisier is a French restaurant with three Michelin stars frequented for special occasions. Don't be surprised to see anniversaries, birthdays, and proposals all celebrated here. Every morsel of food will look like a miniature art piece, and there will be not just one, but two food carts. First, a cheese cart that would make Remy from Ratatouille's heart sing. And then a dessert bite cart that would make him cry with more than 30 daily options, including freshly-pulled chocolate ribbon marshmallows, pot de crème, and barley caramels.
7-Eleven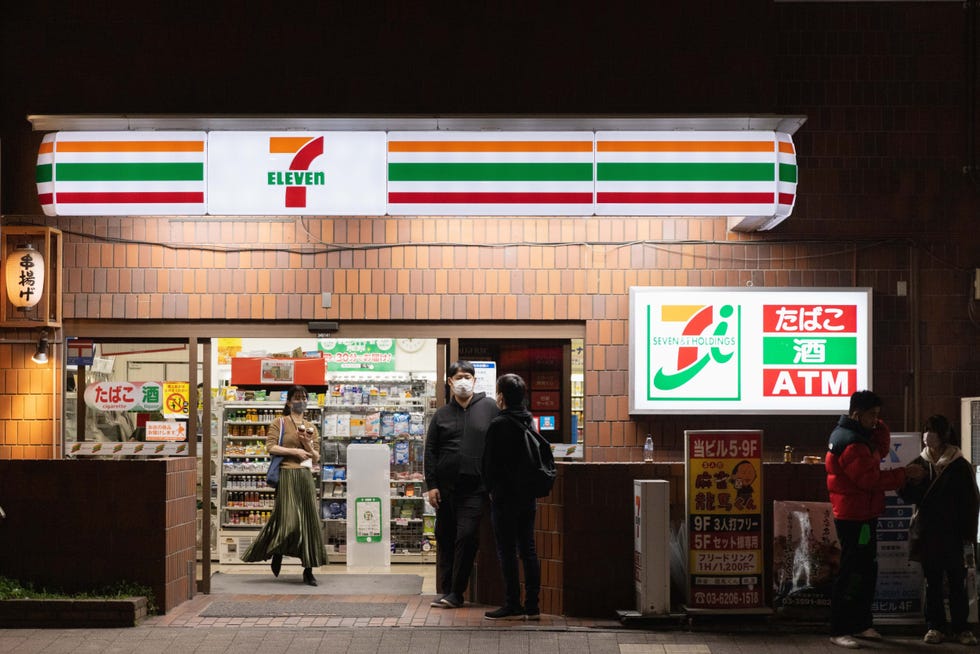 SOPA Images
No, this is a serious suggestion! Japan has excellent convenience stores, and they offer fresh and delicious snacks and meals that are replenished throughout the day. Locals often drop by to grab a quick bite. As you walk around Tokyo, you'll notice 7-Eleven, Lawson, Natural Lawson (with a focus on a more organic and healthy assortment), and Family Mart stores every few feet. Each one has a slightly different selection, and all will have crustless sandwiches. My advice is to walk into them and just eat and drink whatever catches your eye. If you aren't sure of where to start, I recommend the fried-anything at Family Mart, the rice balls at Lawson, and the bakery section at 7-Eleven. Also, the instant ramen at 7-Eleven (the chain partners with award-winning ramen shops to create new ones every year) is another good souvenir to bring home. They also have a great selection of canned cocktails.

Memento Mori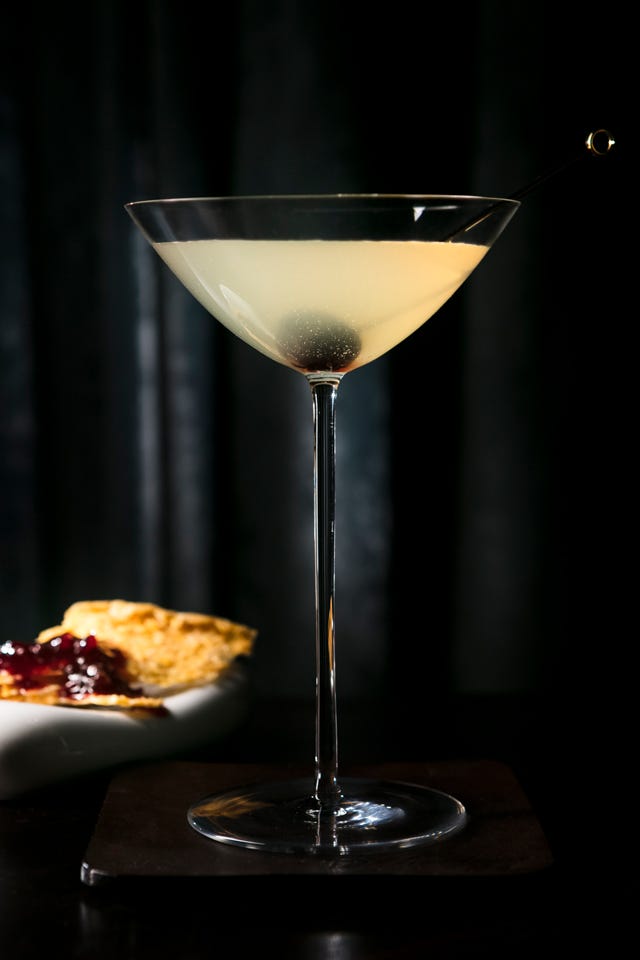 Courtesy of brand.
Tokyo takes cocktail mixology seriously, and there are multiple award-winning bars which won a place on the World's 50 Best list. In Latin, memento mori is a phrase about the inevitability of death. With that philosophy in mind, this gastronomic cocktail bar focuses on appreciating the present and using ingredients at their peak freshness. The mixologist can make cocktails with rose petals or infused with tea, but the real focus here is on using all parts of the cacao bean. If you prefer not to drink, there is also a great hot chocolate, best enjoyed with a slice (or two) of Basque cheesecake.
Cafe Reissue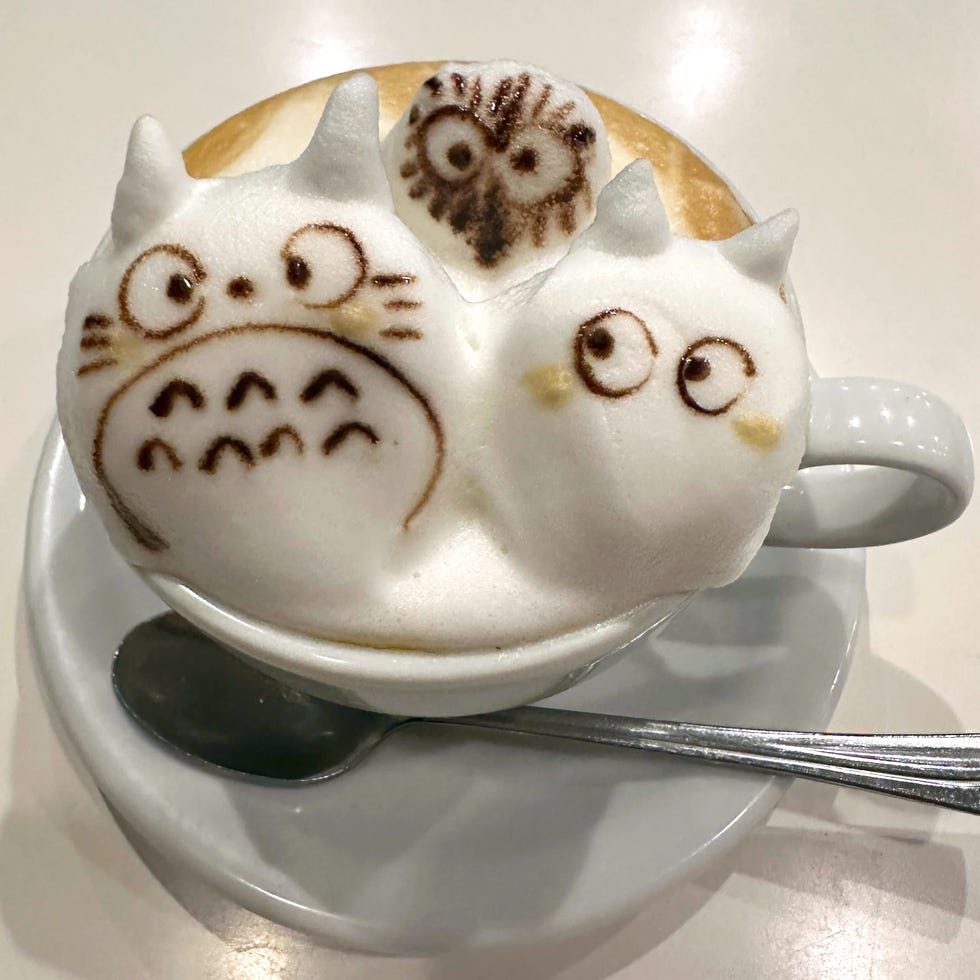 Courtesy of brand.
You are loving Tokyo but you are thousands of miles away from your pet. Cafe Reissue understands. You can bring a picture of your pet and they will perfectly replicate it—entirely in foam. Cafe Reissue is one of several cafés which specialize in 3-D latte art. Its baristas can do pets and a variety of beloved cartoon characters, including Totoro and Hello Kitty. It's not just for show either—the coffee is delicious. Unfortunately, there is no dairy-free milk, so grab your Lactaid pill beforehand.
Bar Trench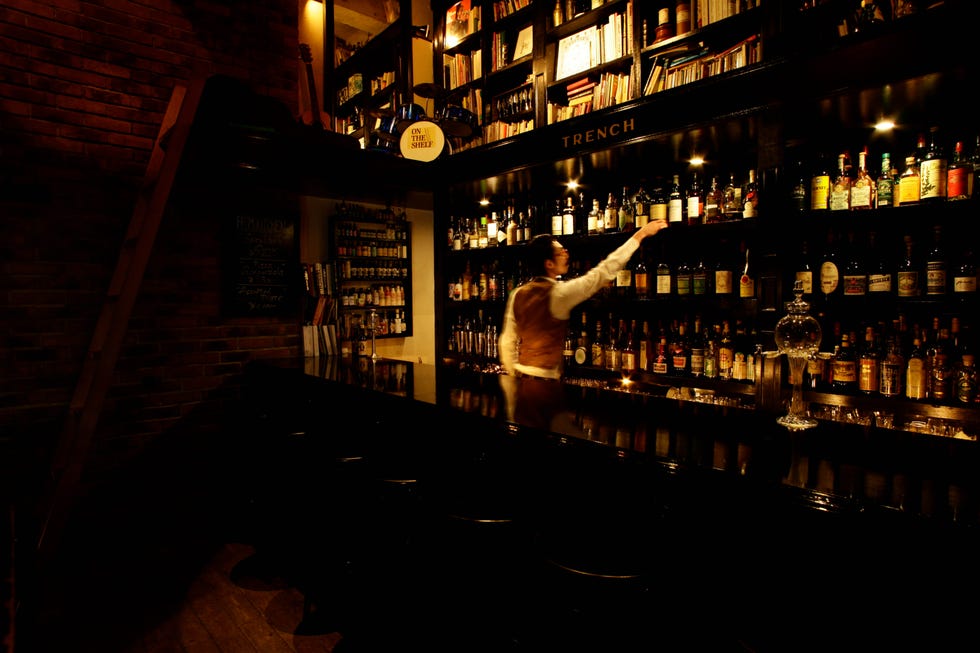 Courtesy of brand.
Bar Trench is a small, cozy speakeasy with less than 20 seats that sits at the end of an alleyway. It boasts the largest collection of bitters in Tokyo, with one of its specialities being the green fairy: absinthe. The creative drinks are strong and completely unique, and the bartenders are friendly to boot. It you can't get in here, there are two other sister bars called Tram and Triad.

Mandarin Oriental, Tokyo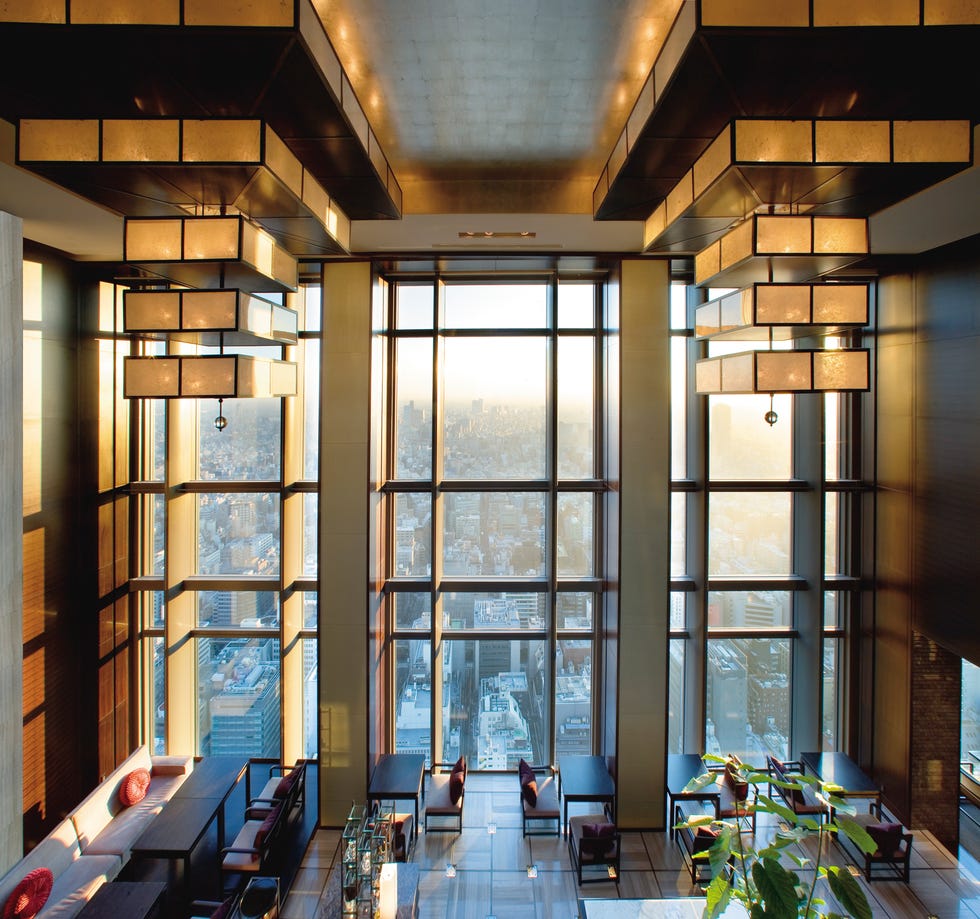 Courtesy of brand.
Most of Lost in Translation was shot at this hotel, which is a particular favorite of director Sofia Coppola. The real draw is to go to the New York Bar on the 52nd floor for a drink and live music (and reenact where Bill Murray's character met Scarlett Johansson, of course). Also, the pool is big enough to do laps, the rooms are incredibly quiet, and the bathrooms have Aesop products.
Andaz Tokyo Toranomon Hills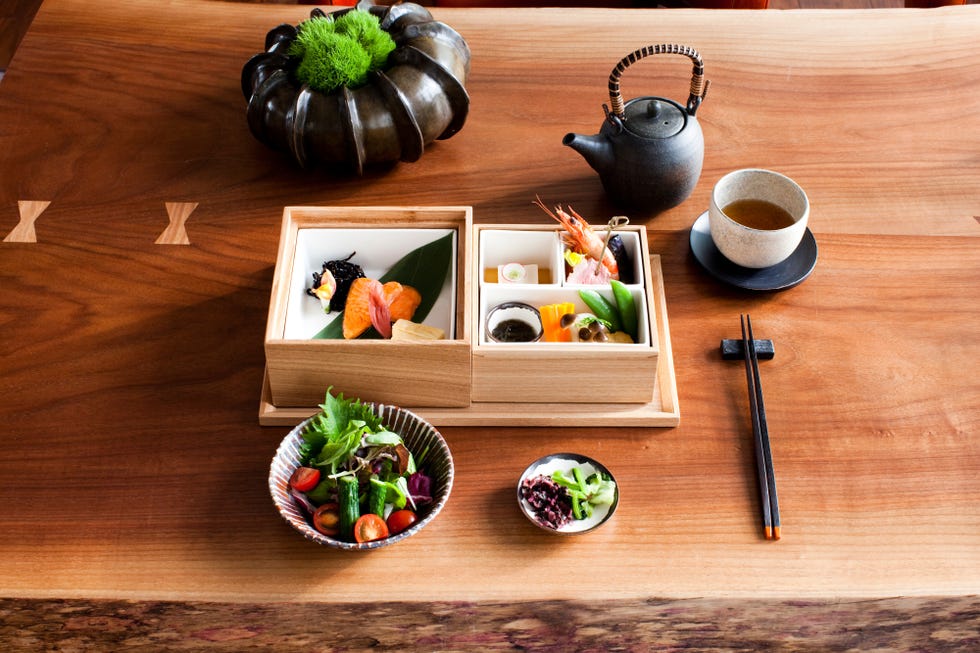 Andaz
The Andaz feels like the perfect mix of everything Tokyo is known for, not to mention it has the best snack selection I've ever seen at any hotel. The lobby encourages hanging, with open communal tables, floor-to-ceiling windows, and a regular rotation of free snacks including fresh fruit, drinks, and hors d'oeuvres. Every room seems to have a view of Tokyo Tower, and the setup makes the bathroom and bed feel entirely separate. It also boasts a generously stocked minibar with lots of more complimentary Japanese snacks, as well as traditional pajamas and robes.

This creamy concealer is a long-time makeup artist favorite because just one swipe can effortlessly cover dark circles, without creasing for hours. It also happens to be slightly cheaper in Japan, so it's a good time to stock up.