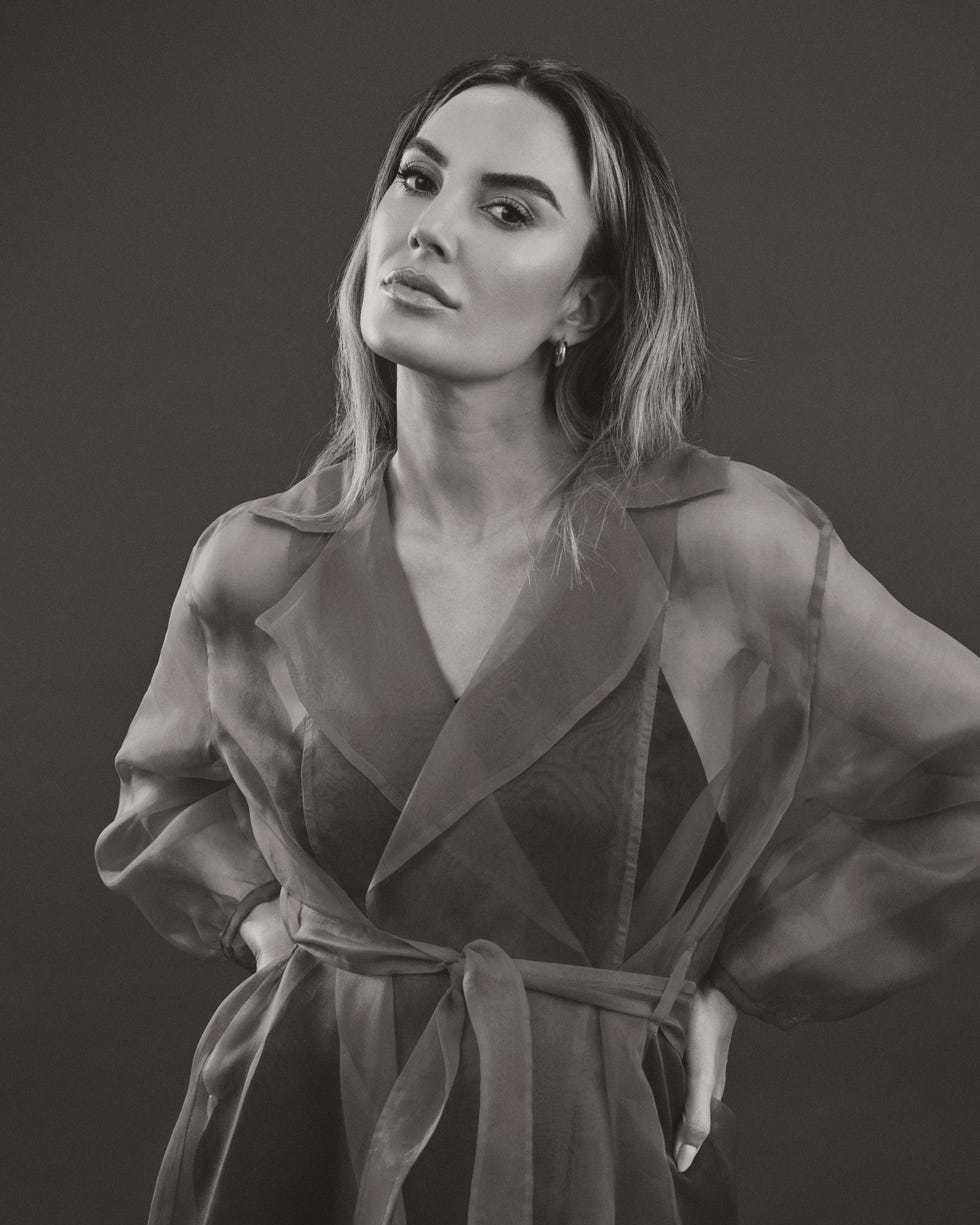 Trench coat, Herno, $685. Dress, Jason Wu Collection, $2,395. Hoop earrings, Missoma, $115.
Amy Harrity
This is not how Elizabeth Chambers thought it would work out. In 2020, her decade-long marriage to actor Armie Hammer ended and, well, let's just say it, six months later he was called out for having cannibalistic fetishes, among a host of other allegations. "Yeah, welcome to my life," Chambers says now.
On a chilly morning in November, Chambers and I meet at the Beverly Hills Hotel Polo Lounge, where Kim Kardashian and Ivanka Trump dined a few weeks earlier. Even among the glitterati, Chambers stands out in lace-up Frame heels, a cranberry Ganni minidress, and a gold initial-E Celine necklace. "Thanks, lovely!" she tells our waiter, flashing a smile as he sets down a heaping plate of lemon-blueberry ricotta pancakes. Chambers looks ready for the runway in full glam, but there's something else making her glow aside from the makeup. "I'm in love," she confides.
Chambers tells me she has exited her Tell Me Lies era, referencing Hulu's new streamer about a deeply toxic relationship, and is stepping into a new one where "I'm not taking any bullshit from anyone," she says. "You stand up for what you deserve, for what you know is right." With the table set, it becomes increasingly clear she is ready to dish about, in her words, "the events."
The man she married is not who she is, and his purported appetites—true or not—certainly don't define her. Call her by her own name: Elizabeth Chambers. The 40-year-old bakery founder and CEO is writing a cookbook, working on a TV show, and dating a new man who is helping heal "my body, my heart, and my mind."
"The last thing I ever want to do is let someone else's actions, which have nothing to do with me, make me angry," she says. "It's not going to help me, and it's not going to help anyone around me." Chambers pours syrup on our pancakes. "These are beyond," she says, taking a bite.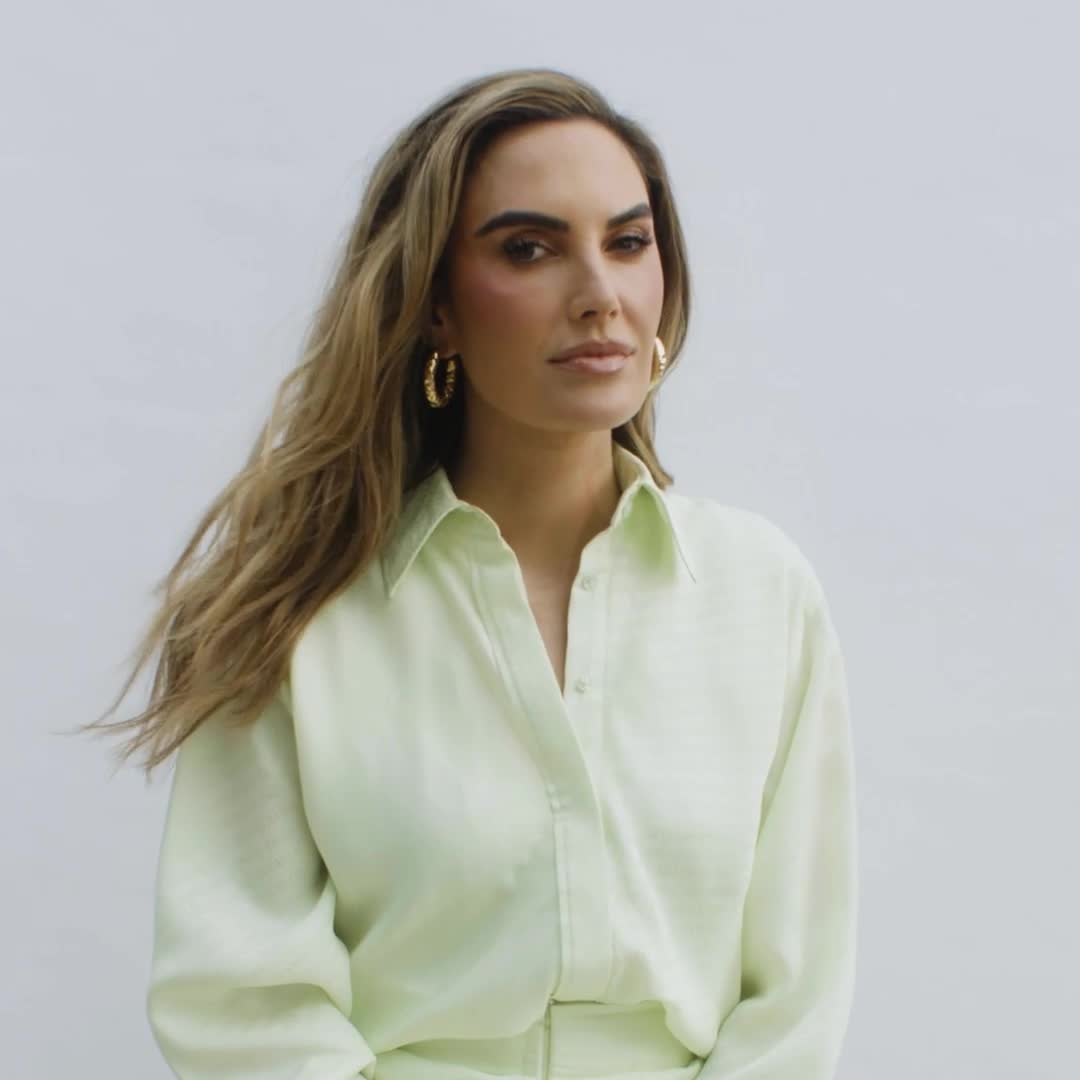 Chambers would know. In the 1980s, her grandmother, Maureen, ran a private catering business in San Antonio, and her mother, Judy, owned one of the city's first natural-food stores. Although Chambers and her mom left the state after her parents divorced when she was two (moving first to Colorado, then to California, before returning to Colorado for high school), Texas always felt like a "safe space." She came back to study journalism at the University of Texas at Austin, and helped care for Maureen on weekends after she was diagnosed with Parkinson's disease.
Her Texas roots also helped her bond with Hammer, who lived in Highland Park, outside Dallas, until he was seven. After watching the 1993 Tom Cruise thriller The Firm, which features the Cayman Islands, Hammer's father, Michael, heir to a multimillion-dollar oil fortune, relocated his family to the tax haven. Hammer moved back to the U.S. at age 13, later dropping out of high school to pursue acting.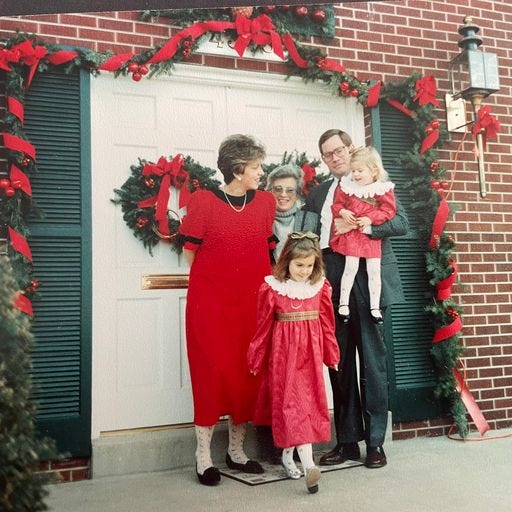 Chambers (center) with (from left) her mother, grandmother, father, and younger sister Catherine.
Courtesy Elizabeth Chambers
Chambers met him in 2007 through a mutual friend in Los Angeles. At the time, she was an anchor and correspondent at Al Gore's now-defunct Current TV, covering immigration and environmental issues. Hammer, four years her junior, was also getting screen time thanks in part to blue-blooded wealth and good looks fit for a Brooks Brothers catalog. Following a cameo on Arrested Development and stints on Desperate Housewives and Gossip Girl, he nailed a dream double role as both of the Winklevoss twins in 2010's The Social Network. "Armie was starting to get some publicity and recognition," Chambers's sister Catherine Chambers tells me. "My first instinct was [to tell Elizabeth to] be careful who you are trusting."
After a few months of friendship and nine months of dating, Hammer planned a very Texas proposal and pulled a diamond ring out of his cowboy boot. Their 2010 wedding took place at the All Saints' Episcopal Church in Beverly Hills, with a star-studded reception at a vineyard in Malibu. "They were the most in-love, perfect couple," Chambers's longtime friend Jenna Marshall Schuler says.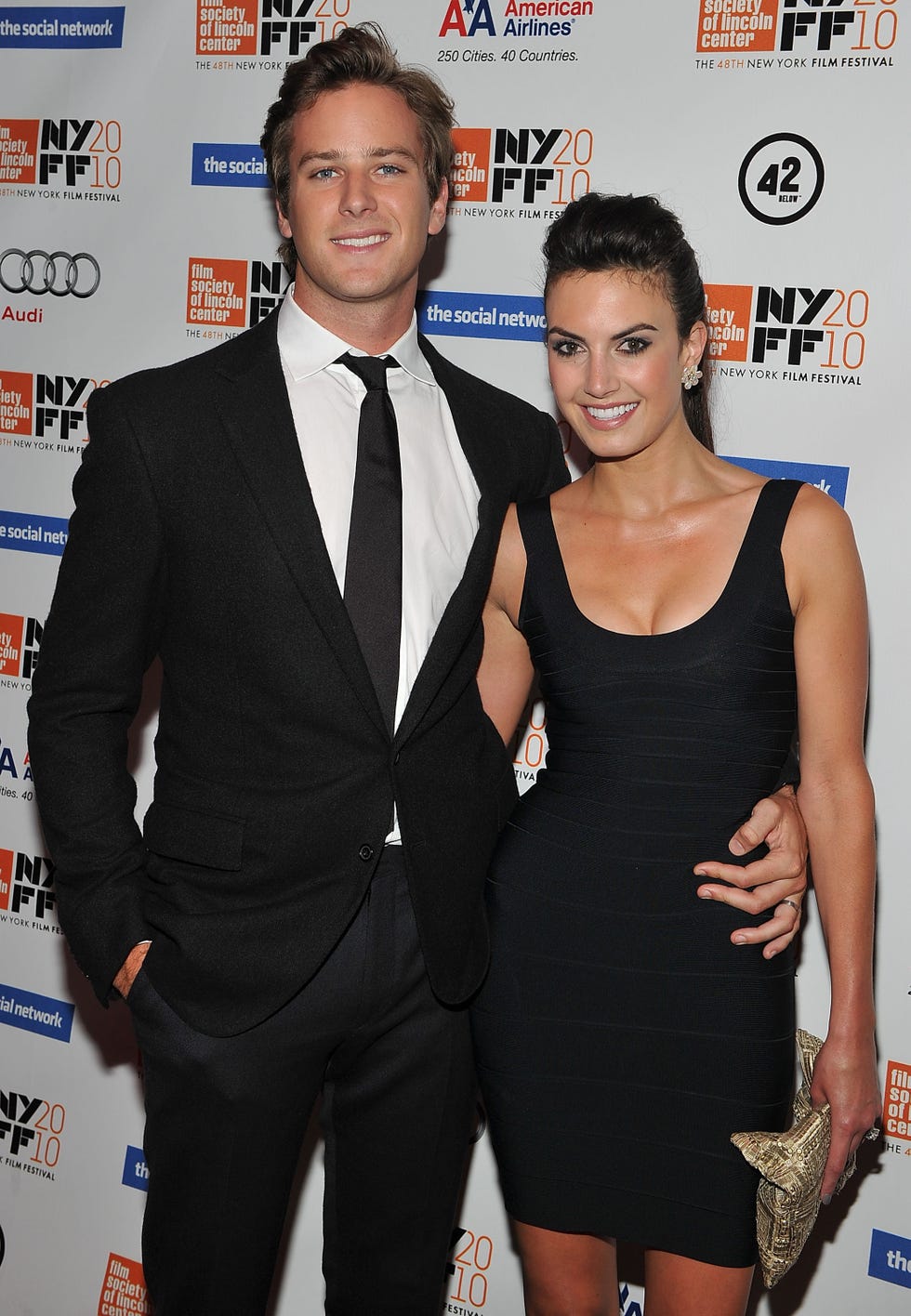 Traveling with Hammer to shoot movies or go on press tours was "completely magical," says Chambers, pictured here with her ex-husband at the New York City premiere of The Social Network in 2010.
Getty Images
Two years later, Chambers followed in her family's foodie footsteps and opened Bird bakery in San Antonio, one block from Circle Street where she was born. "It all felt very full circle," she says. Nostalgic locals who remembered her grandmother's catering lined up to try Bird's signature Monster cookies (peanut butter oatmeal cookies filled with M&Ms and chocolate chips) and sea salt caramel cupcakes. The shabby-chic space, which Chambers proudly designed herself, is reminiscent of a Joanna Gaines remodel, with distressed teal wainscoting and cutesy chalkboard menus with sayings like "You are the cup to my cake." "I really wanted it to be homey," Chambers explains.
Their daughter, Harper, was born in 2014, and son Ford followed just over two years later. While Chambers oversaw the opening of a second Bird location in Dallas, the family split time between Texas and California. When Hammer left to shoot a movie or go on press tours, Chambers came along. "It was completely magical," she recalls fondly. As she basked in the sweetness of Bird's success, Hammer's up-and-down career hit a new high in 2017 with Call Me by Your Name. After Hammer picked up a 2018 Golden Globe nomination for his sexy role, the couple bought a $4.7 million mansion in L.A.'s historic Hancock Park to raise Harper and Ford.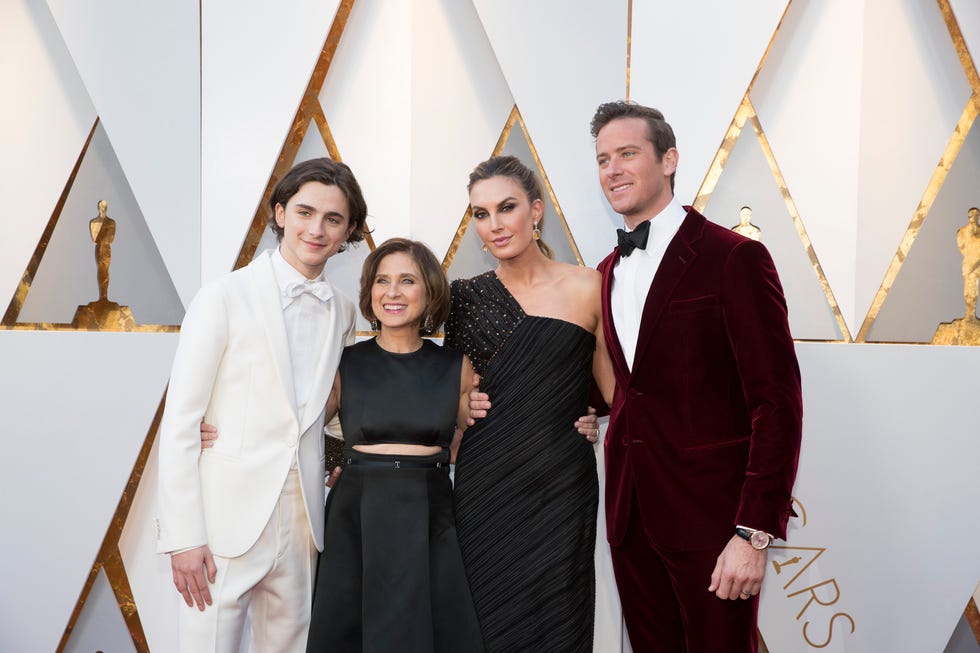 Chambers and Hammer pose with his Call Me by Your Name costar Timothée Chalamet and Chalamet's mom at the Oscars in 2018.
Getty Images
It's hard to pinpoint when—or exactly why—the glamour of it all started to fade. "Marriage is always going to be difficult, and, as with any relationship, you go through a process," Chambers says. "Especially if you throw success and fame into the mix; it just becomes more magnified." In 2017, media outlets pointed out that Hammer was liking memes on Twitter about Shibari, a contemporary term for the ancient and artistic form of Japanese rope bondage. Chambers doesn't talk about her ex's proclivities or their own sex life. She does tell me that "boundaries are everything" in a relationship. "[Over time] your partner is learning things about themselves," she says. "They're growing, you're growing; you hope that you're growing together."
Instead, the pair was growing apart. Looking back now, Schuler says they spent less time together, and at one dinner party "didn't even talk [to each other]." By his own admission, Hammer was having an affair with a woman he met on social media in 2016. In a new interview with Air Mail, his first in over two years, Hammer says his sexual relationship with her involved "consensual non-consent" role play. (Consensual non-consent or CNC is a sexual fantasy that involves sex scenes that can sometimes involve mimicking forms of rape.) In the same interview, Hammer says he confessed the affair to Chambers after the woman threatened to tell her about them—and even asked his wife for help. "I don't like who I'm becoming," Hammer says he told Chambers. "I'm fucked up every single day, all day. I'm miserable, I'm unhappy, and I'm having an affair. And I don't know how to stop any of these things, and I can't do this alone."

Chambers declined to comment on the Air Mail piece. She did reveal in our interview that for most of their marriage, the couple saw famed psychotherapist and relationship specialist Esther Perel, host of the popular podcast Where Should We Begin?, which explores sex and intimacy issues. "[Esther] always said heartbreak is literally worse than a heroin addiction, and I think about that a lot," Chambers says.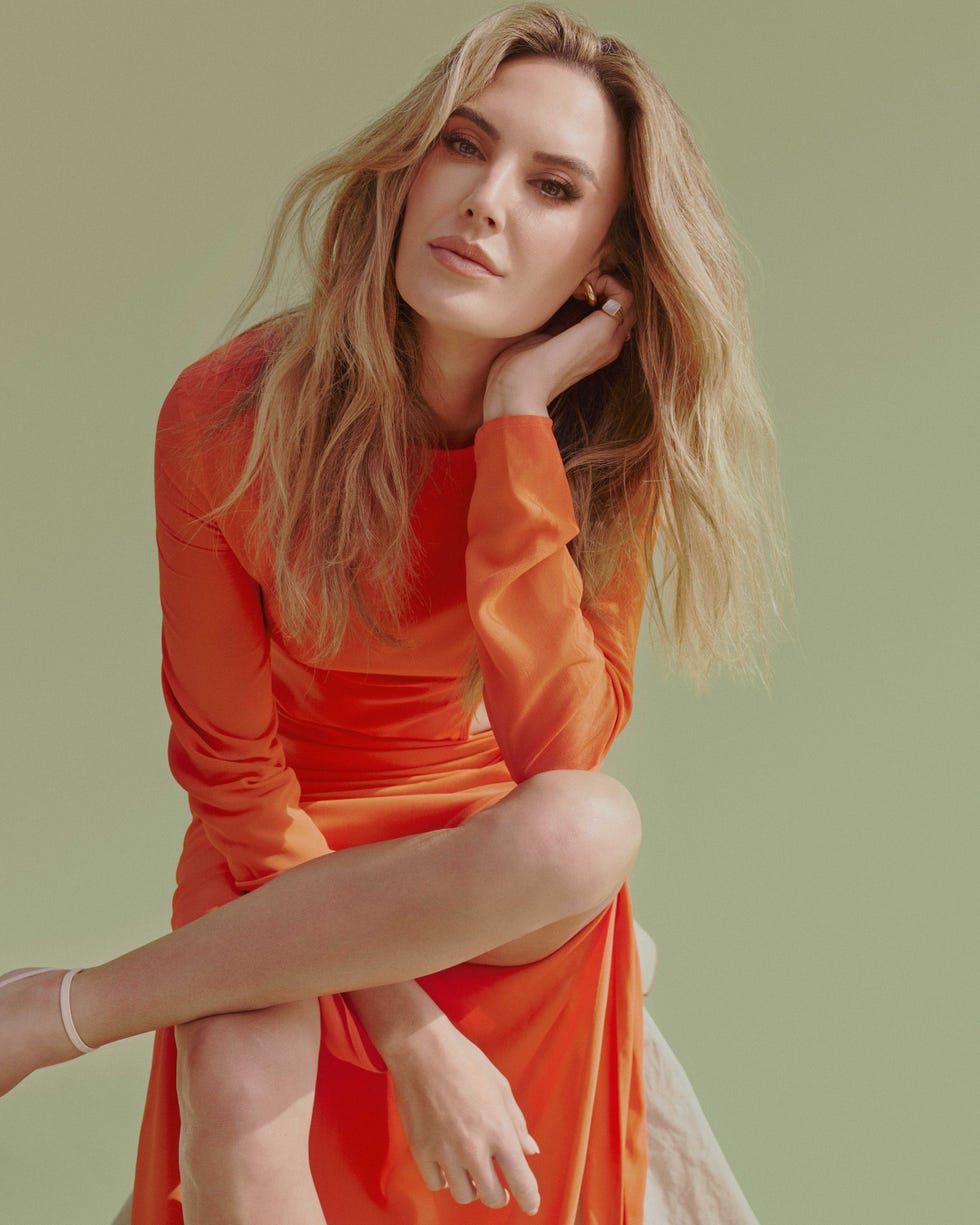 Dress, Silvia Tcherassi, $1,150. Hoop earrings, $115, ring, $136, Missoma. Sandals, Jimmy Choo, $875.
Amy Harrity
By 2020, their circle of trust had all but broken. When COVID cases started spiking in the U.S., Chambers and Hammer changed their plans to return home to L.A. from a boat trip in St. Barts and instead headed to the Cayman Islands, where Hammer's father and stepmother, Misty, still lived. They all quarantined together with the kids, which Hammer described to British GQ as a "very complicated, intense situation, with big personalities all locked in a little tiny place," likening himself to a wolf "caught in a snare" that wants to "chew his own foot off." To Chambers, his behavior was less caged animal and more irritating. "He was the worst," she says.
The marriage had been tested before—by distance, by fame, and by infidelity. The nail in the coffin was Hammer's decision early in the pandemic to leave Chambers and the kids in the Caymans and head back to California, where he helped a friend restore an old motel outside Joshua Tree National Park. "My heart was broken in nine million pieces, and I still drove him to the airport," Chambers says.

She takes a deep breath to steady her voice and says, "You can give, you can love, you can be there for someone, but you also need to hold people accountable for their actions." According to a Los Angeles Superior Court docket obtained by ELLE, Chambers filed for divorce in July 2020, citing irreconcilable differences; the divorce hasn't been finalized. "The dissolution of my family was literally my biggest fear of my whole life," she says. "You're building something, right? You're weaving a beautiful tapestry, and the last thing you want is for a knife to come and rip the tapestry in half."

Chambers continued to run Bird remotely from the Caymans, where the COVID case count was low and Harper and Ford attended school in person. The island was also a "beautiful, safe cocoon" where the kids could process the separation. "When I filed and it became very public, nobody there cared or, for that matter, even knew [about the divorce]," Chambers says. "The other kids in their class didn't have parents who were entertainment attorneys or were even in the industry." Meanwhile, Hammer reportedly dove headfirst into singledom with five new tattoos and a string of girlfriends.
Some media linked him to an apparent finsta account and liking more bondage memes. Then, in January 2021, an Instagram account with the handle "House of Effie" leaked what it claimed were texts with Hammer about a much more twisted, and highly disturbing, fetish. In the messages, which have not been verified, Hammer purportedly wrote that he is "100 percent a cannibal," and that he wants to "cut off" a toe and "drink blood."
At first, the public response was tittering, but as more allegations surfaced, it seemed like this wasn't just a case of celebrity kink-shaming. Hammer was being accused by multiple women of emotional manipulation. "I was learning things as the public was," Chambers says. "I was like, 'There are no words. What the fuck?' "
As Chambers tried to piece together her ex's secret sex life in realtime, her sister Catherine says his accusers were in her DMs asking questions she didn't have answers to. "It was all still so new to her," Catherine says. "She put on her support hat to be there for these women who had gone through terrible, terrible situations that were brought on by her former husband, but Elizabeth chose to be there for them rather than for herself first. She listened to horrible, deep, dark details regardless of what it meant for her own life."
Details of investigations into Hammer's alleged behavior are murky. In 2021, the Los Angeles Police Department disclosed an investigation after a woman came forward in a press conference claiming Hammer raped her for more than four hours back in 2017. The woman alleged that he repeatedly bashed her head against a wall, bruised her face, and beat her feet with a crop. According to some news outlets, that investigation ended without charges.
When reached for comment, LAPD said it opened an investigation "in the beginning months of 2021 for sexual assault allegations made against Armie Hammer," which is currently "still being investigated by detectives." A spokesman for the Los Angeles County District Attorney's Office confirmed that a "specially assigned prosecutor" is working with law enforcement as they continue to investigate the allegations, and that "law enforcement has not yet presented a case against Mr. Hammer to our office." At the time of publication, police have said no charges have been filed in connection with the investigation. Andrew Brettler, an attorney who has issued statements to the media on Hammer's behalf in the past, previously said in a statement that "all interactions between Mr. Hammer and his former partners were consensual. They were fully discussed, agreed upon in advance with his partners and mutually participatory." Brettler did not return ELLE's request for comment; neither did Hammer's former agent or publicist.
"I was learning things as the public was. I was like, 'There are no words. What the fuck?'"
For some, the disturbing details didn't come as a total shock. "You don't just wake up and become this dark controller, [this] abuser; there has to be a seed that's planted," Hammer's estranged aunt, Casey Hammer, says in the Discovery+ docuseries House of Hammer. Casey appears as a central figure in the series, which covers the allegations against Hammer and his family's complicated legacy, though Hammer says in Air Mail that he hasn't spoken to his aunt in 15 years. (Chambers, who is speaking for the first time about her marriage in intimate detail here, declined to participate in House of Hammer.)
Talent agency WME dropped Hammer as a client, and he backed out of two upcoming movies, including the Jennifer Lopez rom-com Shotgun Wedding. He has adamantly denied all of the allegations, telling Air Mail that when it comes to his sexual relationships, "every single thing was discussed beforehand."

Chambers addressed the allegations on Instagram in February 2021, offering support for "any victim of assault or abuse." Her post opened the floodgates, and some commenters began to question how much she knew—or why she didn't say something sooner. "A lot of people only saw her as Armie Hammer's wife, and she's always been [more than that]," Catherine Chambers says about her sister.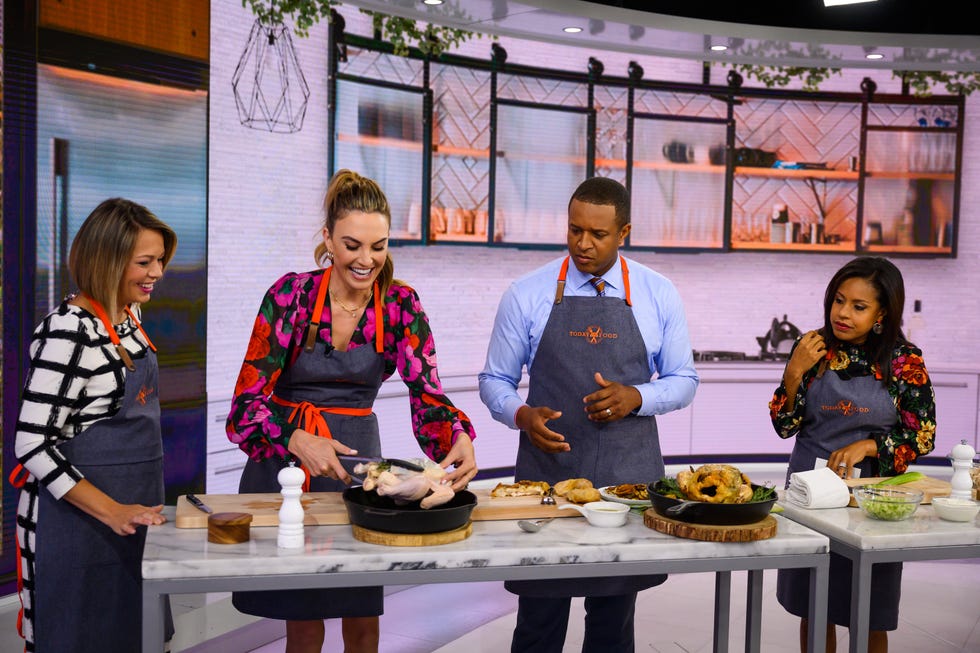 "The days of putting all your eggs in his basket and then being left holding nothing are gone," says Chambers, pictured here on the Today show in 2019.
Getty Images
To remind the world who she is, Chambers continued booking cooking segments on the Today show, appeared as a guest judge on the Food Network, and sat for interviews about her brand as a businesswoman. Other women who feel overshadowed by men have reached out to her asking for advice on how to retain their own identities. "The days of putting all your eggs in his basket and then being left holding nothing are gone," Chambers says. "No, no. There are so many things you can do: Advocate for yourself. Learn. Start an Etsy, I don't care. Start doing whatever it is that fulfills you."
Her own journey to fulfillment began after learning how to heal herself. "You're literally in this triage state after a car accident," she says. "Eventually you're brought to the emergency room and hooked up to an IV—and when I say eventually, this isn't in one day, this is weeks and then months—and then you start physical therapy. Every day is moving toward that ultimate goal of being able to walk again." She found her footing on the shores of Grand Cayman, where she still lives full-time with Harper and Ford—mostly, she says, because "paparazzi are illegal there."
On the roof of Palm Heights, her friend's five-star hotel, Chambers practices sound healing and meditation. "It's all about setting intentions," she says. "I ask myself, 'How are you feeling? What are we going to let go? What are we accepting? What are we receiving?'" Chambers, who is Episcopalian, prays to God "not to give me anything bigger than what I could handle." When things "don't serve" her, she jots them down and burns the paper. For her, there is "beauty in the process of recovery."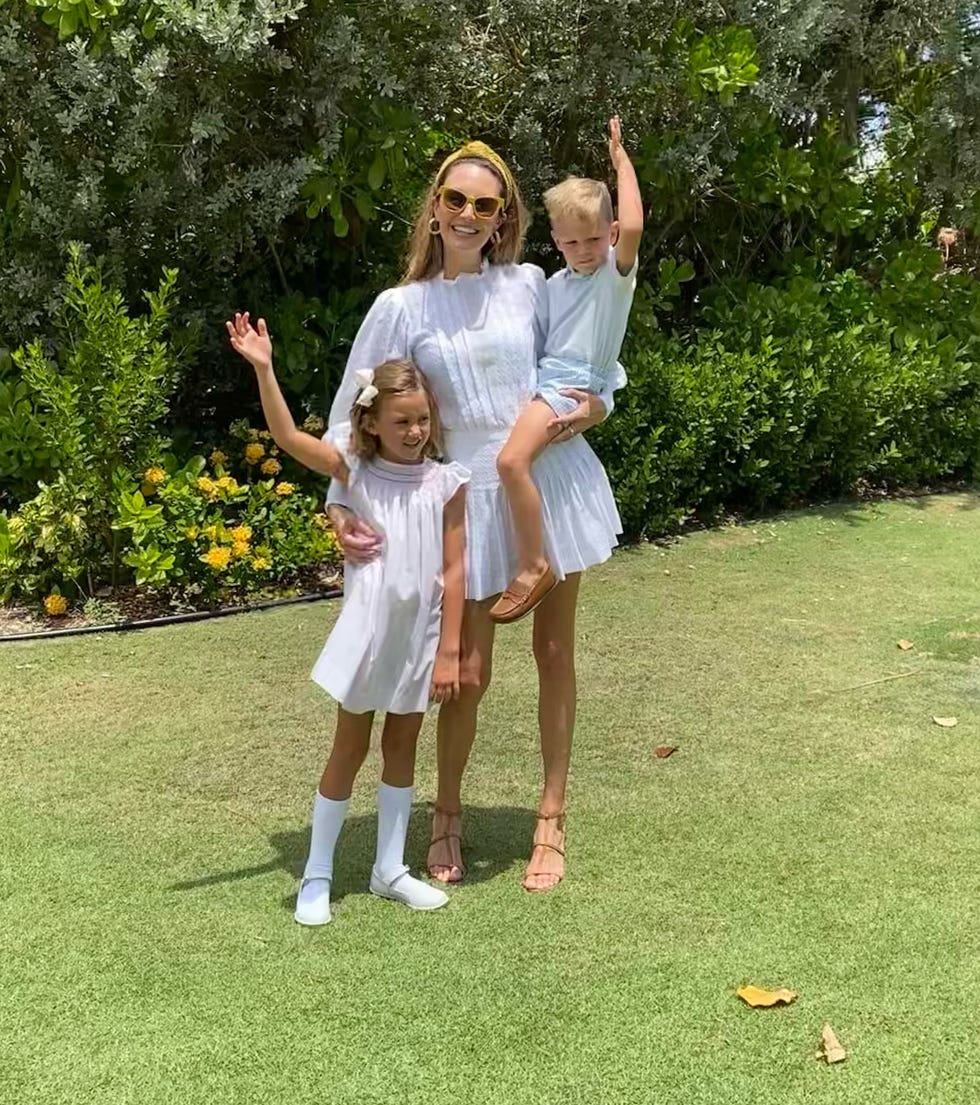 "All you want is for your children to have two solid parents, right? That's always the goal, so anything I can do to support that, I will," says Chambers, pictured here with Harper and Ford.
Courtesy Elizabeth Chambers
"I've become more grounded in being one with the earth and being vocal about what I want and what I don't like," she says. "How can you really let something go if you don't verbalize it?" Chambers plans to move back to L.A. with the kids for a fresh start. She still spends time with Hammer in a non-romantic way, while figuring out how to co-parent Harper and Ford. Hammer spent nearly six months at a Florida rehab facility in 2021 known for treating drug, alcohol, and sex issues; afterward, his lawyer confirmed in a statement to People that he'd left and was "doing great."
Hammer has been spotted visiting the Caymans, though he was rumored to have been crashing at the California home of Robert Downey Jr. "I support Armie through his journey and I always will," Chambers says. "All I've ever wanted is for him to be sober, healthy, and happy. And he is that. He's really present when he's with the kids, and that's all I can hope for. All you want is for your children to have two solid parents, right? That's always the goal, so anything I can do to support that, I will."
There was a time when Chambers loved the idea of her children being a perfect mix of their parents. Now she is doing everything in her power to ensure they escape the last couple of years trauma-free. "Do I want my son to become this? Would I want my daughter to stay in a relationship like this?" she says. Sessions with family-separation therapists have helped, but "obviously this is all way too much for two children under eight," she says. "One day, I want them to be able to say, 'I am independent of whatever has happened in generations before. I'm aware of it, but I am the person I am not because of where I came from.'"
Through it all, Chambers has learned more about the person she is. "A really interesting reset moment," she calls it. Combing through old family recipe books inspired her to start work on her first cookbook, which will pay homage to her grandmother and mother. She also talks about an unnamed TV project that is intended to help people in their everyday lives.
"Our parents and grandparents, and probably generations before that, taught us to brush things under the rug and pretend like everything is perfect," she says. "But that's so uninteresting, and it's so damaging. Like, no, we're going to talk about it. Nothing is perfect. And I'm really guilty of that. I always wanted the perfect Christmas card. I'm such a traditional person. I love family, and I love faith. But at the same time, what I think is really beautiful is that we're all imperfect."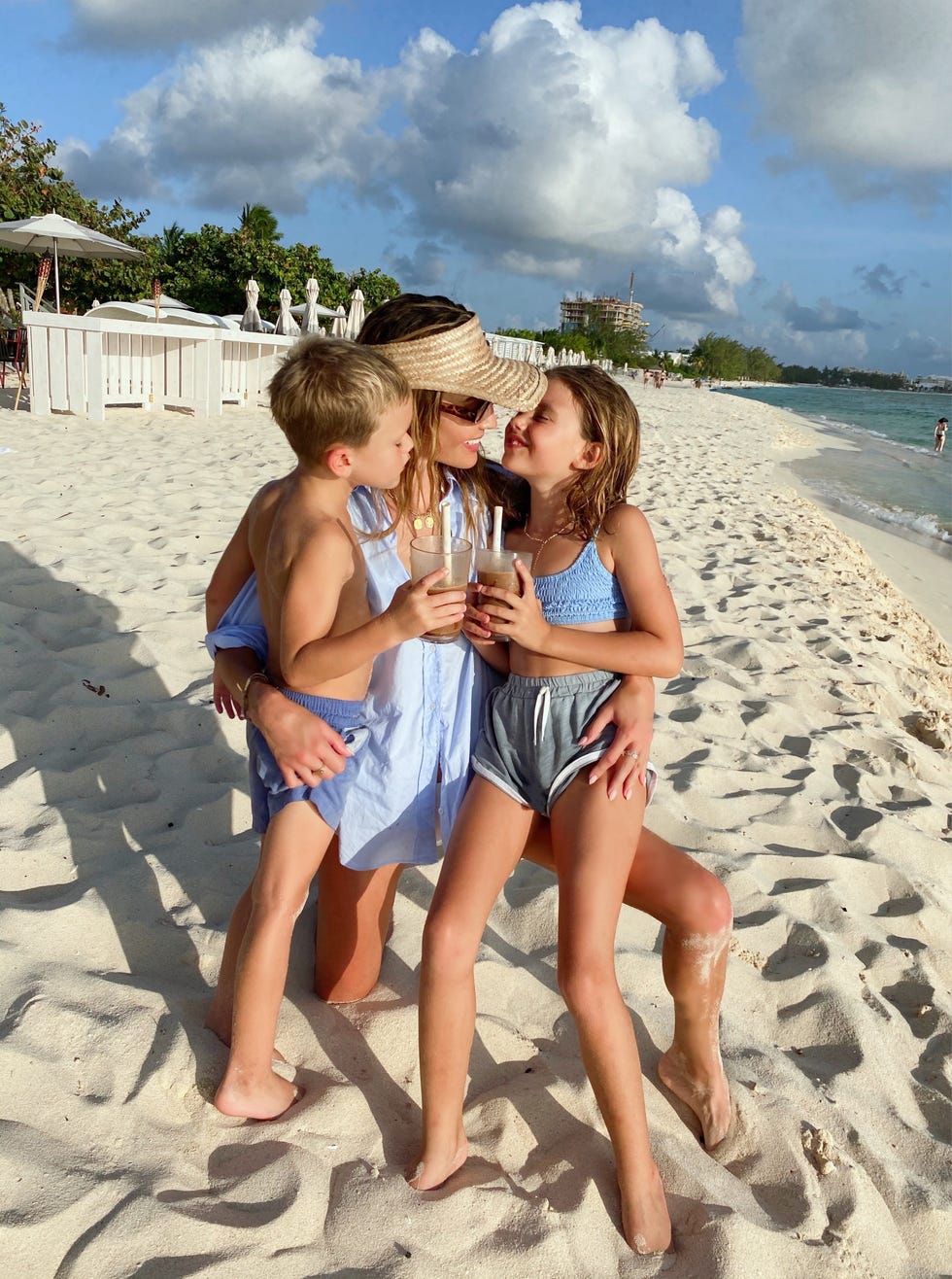 Chambers with Harper and Ford in the Cayman Islands
Courtesy Elizabeth Chambers
In 2021, she opened a third Bird bakery in Denver, and is now scouting a fourth location overseas. "We are on this planet for a very short period of time," she says. "I want to love everyone I'm going to love and do the best job I can." Business has never been better, but these days Chambers finds herself happiest behind a mixer. "It's always been therapeutic for me," she says. Harper and Ford get homemade pancakes and breakfast tacos most mornings, and on weekends they host "Cinnamon Roll Sundays" for neighborhood kids in the Caymans.

When Chambers is not in the kitchen, she's with her 26-year-old European boyfriend, who works as a physical therapist in the Cayman Islands. They have been together for over a year, and she calls him "a really understanding" person. "With my life, you have to be," Chambers says. "It's a shit show!" They are "so in love," she adds, but act "completely platonic if the kids ever see us together, because I don't think it's in their best interest to see their mom dating someone while they're still processing divorce."
For nearly two years, Chambers avoided speaking publicly about Hammer. She says opening up has helped her come to terms with what happened—and to move forward. "Do I think she's fully healed? No," her sister Catherine says. "But I do think she has a better understanding of herself and how to speak with her kids about these difficult topics [when the time is right]. She is really happy—blissfully happy, in many ways—but this will always be something she'll have to address. She's got this darkness that's basically tagging along and tapping her on the shoulder every once in a while. It's like, 'Oh, wait. We've got to remind everybody that this happened to you and caused damage in your life.' "
Dress, Brandon Maxwell, $1,995. Hoop earrings, Jennifer Fisher, $750.
Amy Harrity
Hair by Ted Gibson for Starring by Ted Gibson; makeup by Olivia Madorma for PRTNRS agency.
This article appears in the March 2023 issue of ELLE.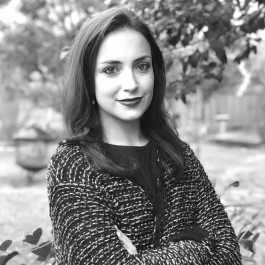 Senior Editor
Rose is a Senior Editor at ELLE overseeing features and projects about women's issues. She is an accomplished and compassionate storyteller and editor who excels in obtaining exclusive interviews and unearthing compelling features.